EuroCon
Version 2.8
1999 - July 2002
freeware
Windows
General
EuroCon is a very easy but advanced application to convert (European) currencies.
Nice and userfriendly interface with XP look in 3 languages (English, Dutch, French).
Eleven Euro currencies with fixed exchangerate.
Six other European currencies, dollar and yen with changeable rates.
Define your own 2 currencies with own images.
Select the visible currencies with their flags.
Set display format of the result.
Possibility to change number of decimals, exchange rates and colors.
Result window with all converted values.
Save results as text or HTML.
Unique clipboard-support so EuroCon can be used from all Windows-applications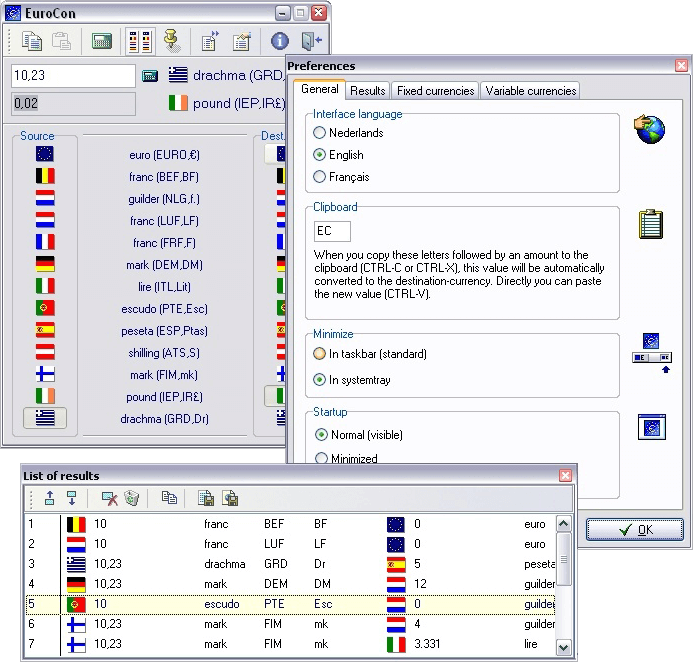 Copyrights and distribution
All copyrights to EuroCon are owned by the author Stefan Cruysberghs.
EuroCon is freeware and may be freely distributed but no person or company may charge a fee for the distribution of EuroCon without written permission from the author.
Any distribution includes only the original files. You may not alter, delete or add any files of EuroCon.
The author doesn't give a warranty for error free running of these programs and the use of this software is on your own responsibility.
Download
EuroCon
Contents: Program and readme file
Version: 2.8 (2002-07-01)
File size: 510.34 Kb
Author: Stefan Cruysberghs