Calendar
Version 2.22
1999 - June 2003
freeware
Windows
General
Calendar is a small but easy application which should be a standard accessory of the operating system.
Nice and user-friendly interface (with XP look).
Many options (week numbers, colors, font, date format...).
Number of visible months changes if window is resized.
Minimize to the systemtray.
A 'goto' window for going to a specific date quickly.
Info window which shows all information about date (year, days in year, ISO week, days in month, ...).
Interface in 2 languages (English, Dutch).
Calendar is just a little tool so it does not have any planning or schedule features.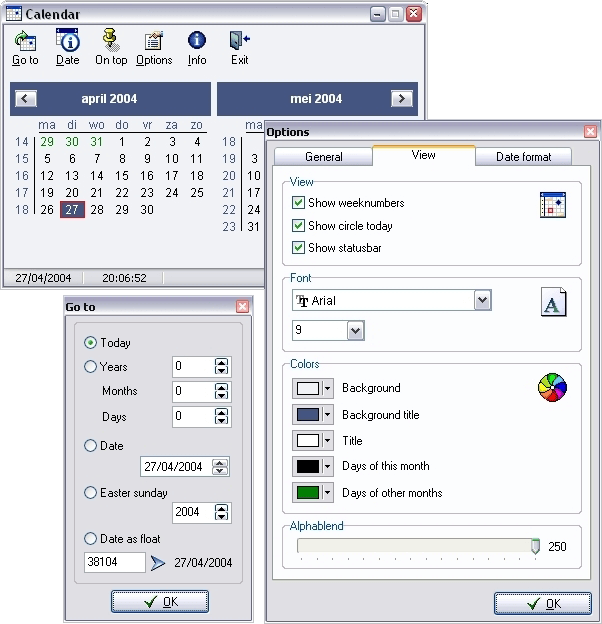 Copyrights and distribution
All copyrights to Calendar are owned by the author Stefan Cruysberghs.
Calendar is freeware and may be freely distributed but no person or company may charge a fee for the distribution of Calendar without written permission from the author.
Any distribution includes only the original files. You may not alter, delete or add any files of Calendar.
The author doesn't give a warranty for error free running of these programs and the use of this software is on your own responsibility.
Known issues
The online virusscanner of Trend Micro HouseCall identifies my Calendar application as a 'possible virus'. Other virusscanners will not find anything, so please regard the program as 'safe'.
Download
Calendar
Contents: Program and readme file
Version: 2.22 (2003-02-16)
File size: 457.4 Kb
Author: Stefan Cruysberghs